12-23-2009
I am so sorry (that you can't speak a word of French...) and as well to be guilty to have left this English version without any translation so far but I had no time to translate.
Right now I have just created a new forum and chat for lesbians involved in lesbian politics only or who wish to be activist in lesbians groups only (not mixed) or live amongst lesbians if they could.
It is in French but the titles in the various topics of the forum are translated in English and you can post in English because a lot of the registred lesbians there understand English : www.lesboseparatiste.forumactif.com
You require my permission to register there, indeed I must check who becomes a member as all the messages are in fact private and are not visible through search engines or by visitors, and it would be good that I can check if you are lesbian and feminist.. There is no men allowed there, no lesbian with no political awareness who would just spoil the discussion and even no straight feminist.
Regarding post-feminist lesbians (sometimes called anti-feminist or pro-sex or queer), queer lesbians, they are not welcome here, and straight feminist participation may be interesting but it is primarily a lesbian forum for lesbians only with lesbian topics, and with a strong political will to offer this space for lesbians willing to have a separatist life (or willing to be active in lesbians groups only) and having a feminist mind too (that they define themselves as feminist, radical or separatist lesbians).
Thanks.
Monique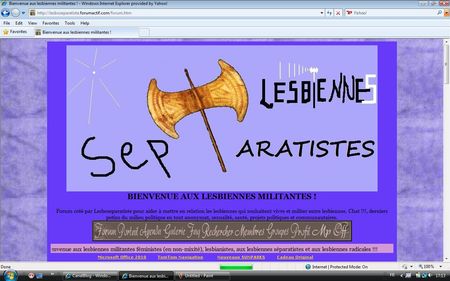 Commentaires sur I know, no translation yet...